Back to Chronicles Tunbridge's Mill Bridge is back Bridge Pulled Back over River by Oxen July 3.
Tunbridge Covered Bridge Souvenirs AvailableProfits to be used to maintain all of Tunbridge's bridges.


tunbridg.celeb

Tunbridge Celebrates Mill Bridge Opening
Photos by Jackie Higgins

On July 22, 2000 Tunbridge celebrated the opening of a new covered bridge in the heart of the village's historic district. Friends of the old Mill Covered Bridge gathered for the ribbon cutting and a bit of pageantry. Euclid Farnham, author and Tunbridge Historian served as Master of Ceremonies while Dick Ellis' South Royalton Band provided the music.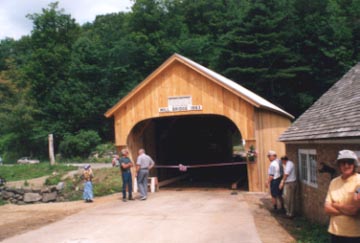 The new bridge stands ready, ribbon in place, as the clock ticks toward 11 .a.m.














The South Royalton Band plays a medley of tunes as the hour draws near. The saw mill where, in 1880, builder Arthur Adams got his lumber for the Mill Bridge stands in the background. Euclid Farnham opened the ceremonies with the Band's rendition of The Star Spangled Banner.










Alona Litwick, at 92 the town's eldest resident, cuts the ribbon, officially opening the bridge.














Alona Litwick rides in a vintage Chevelle convertible, the first automobile to officially cross the bridge.














As Euclid Farnham tells the story of the coachman notorious for running bridges, Shane Young, playing the part of the coachman, drives his rig through the bridge at a trot.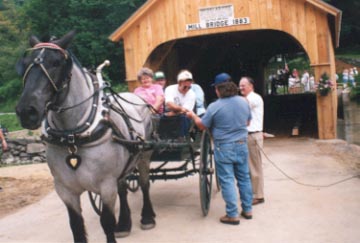 The story continues as Dan Mullen, Tunbridge First Constable, steps forward to enforce the edict of the Selectmen: "ONE DOLLAR FINE for a person to drive a horse or other beast faster than a walk or drive more than one loaded team at the sam time ON THIS BRIDGE"

"Here is two dollars," retorted the coachman. "Cause when I come back this way, I'm going to run your ding bridge again!" Or words to that effect. And according to history, he did.







Mounted color guard Lorri Berger walks her horse through the new bridge.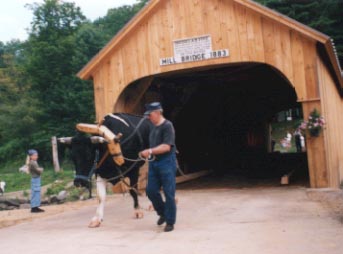 Scott Guth leads his ox Jackson through the bridge that they had helped pull over the river last July 3.














Four pre-1940 vintage cars paraded over the bridge. Nancy and Randy Chapman cross the replica 1880 bridge in their 1928 Chevy.














Here Baxter Doty and Ernest Howe ride in style, with Doug Giles, chairman of the select board in the rumble seat.
Hale and Diane Mattoon, and Hilda and Buck Rogers cross in a Ford Model B open-top.
Roger and Louise Sargent in their 1929 Ford sedan. Look closely and you will see one of their two stuffed bears riding in back.
---
Joe Nelson
P.O Box 267, Jericho, VT 05465-0267
jcnelson@together.net
No part of this page may be reproduced without the written permission of Joseph C. Nelson or of Jackie Higgins
Photographs this page Copyright &copy, 2000, Jackie Higgins, Tunbridge, VT
This file posted July 29, 2000