Touring Switzerland with the Keatings
Part 2
Rüdlebrügg S-06-27 over the Kander R.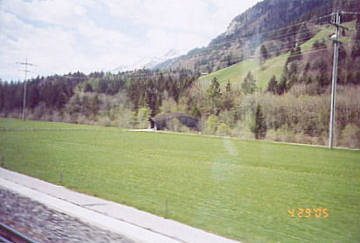 Shützenbrücke S-06-28 over the Kander R.
Sunrise over Lake Brienz
Hi Folks
On April 25, we moved from Chur to Locarno. On 4-26, we visited gardens on the island of Brissago. On April 27, we visited Lugano and Swissminiatur, which has miniature castles, churches and two covered bridges. On April 28 we visited gardens on the islands of Madre and Bella, using a hydrofoil boat to get there. However, there were no actual covered bridges, so no pictures.
On April 29, we went to Domodossola, Italy and then to Brig, and Reichenbach where we passed two covered bridges. The sunrise picture is over Lake Brienz from our hotel near Interlaken. The two Reichenbach bridges are over the Kander river, SZ-06-27 and 28. We passed by them twice, and Liz chose the best pictures from the train. After a while, several people in our group would yell out"Covered Bridge!" and Liz became known as "The Covered Bridge Lady." There was also a "Cow Lady." The first week of our trip she lamented that there were no cows (it was cold and rainy). But then it turned sunny and warm, and we saw many cows. However some members of our group kept calling out "Cows" far longer than necessary (not Liz or I--too busy looking for covered bridges).
On April 30, we took the Gornergrat train to the Gornergrat summit for a beautiful view of the Matterhorn. We then went to Zermatt, passing by two 15th century stone bridges (see photo). We passed by another covered bridge near Zermatt, in the Valais canton. Zermatt has no cars, other than service and emergency vehicles.
On May 1, we went to Luzern. The first thing we saw was the Swiss national monument, a dying lion. This is a memorial to the Swiss guards of French King Louis XVI, who were murdered defending him from the mob. Switzerland stopped sending out mercenary soldiers after this incident, with the exception of the Papal Swiss Guards. Mark Twain called this monument"The most mournful sight my eyes ever did see."
Tom




| | |
| --- | --- |
| | |
| Matterhorn | 15th Century Bridges |
| | |
| --- | --- |
| | |
| Hohsteg Covered Bridge near Zermatt. | Dying Lion Monument |