Paoli Prepares To Reopen Damaged Bridge

Return to First Page
Paoli Prepares To Reopen Damaged Bridge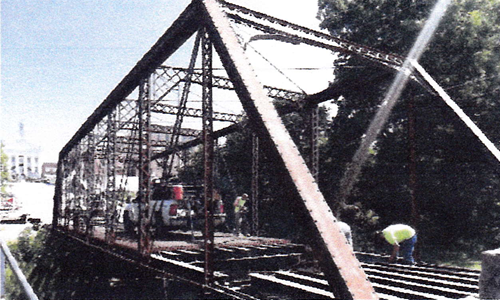 Gospel Street Bridge
Paoli, Indiana
Workers lifted Paoli's historic Gospel Street Bridge back into place in June, 18 months after the 1880 span was damaged in a widely publicized accident. The iron bridge collapsed on Christmas Day 2015 when the driver of a semi, weighing six times the posted weight limit, attempted to cross the bridge.
The driver was later sentenced to 180 days in jail for the violation and the trucking company's insurance covered the nearly $750,000 in repair. Repainting and the final inspection remain to be completed before the long awaited reopening.
Follow the progress as it draws towards completion on the Rebuild Paoli's Old Iron Bridge Facebook page.
Check out our Facebook post which covered the incident. Details provided by WTHR-TV in Indianapolis, Indiana:

Women who damaged Paoli bridge by disregarding weight signs sentenced to 6 mo. in jail
Return to top

Joe Nelson, P.O Box 267, Jericho, VT 05465-0267 This file posted 08/30/2017