uncoverg

Back to Archive.

UNCOVERING THE PAST
an essay by Steve Miyamoto

As I consider the past there are many things that come to mind. I remember childhood memories, teenage experiences. High school and college challenges. There are also memories of dating, engagement, our wedding day, marriage, first child, second child, third child and fourth child as well as of first job and career. I'm sure we all can relate to some, if not all of these experiences. Some older and wiser then I, have faced more joys and challenges. I will also face these in the days to come, God willing. But from my present perspective I'm looking back in time to the things that once were. I'm looking back to some of the illusive things that only exist in memories.

For some reason I have found myself drawn to earlier days and bygone technologies. Maybe you share the same fascinations. I am intrigued by lighthouses on the Outer Banks of North Carolina, baseball in New York City and covered bridges in Vermont among other things. I grew up in New York about an hour and a half north of New York City. I found myself becoming a New York Met's fan at an early age. As a child I got to see the Met's play in the Polo Grounds in 1963. I didn't know it then but this would become a spark that would kindle my interest in baseball history. To this day I still follow the Met's through the good and bad times. In 1994 PBS aired the Ken Burns series on Baseball. In the Inning 7 show the 1950's were featured. The title was New York City, the Capital of Baseball. I learned about the 1951 game 3 playoff between the Brooklyn Dodgers and the New York Dodgers played at the Polo Grounds. This game is famous in the annals of baseball history. It was dramatically ended by the 'Shot Heard Around the World'. Bobby Thomson, of the New York Giants, crushed the Brooklyn Dodgers on October 3,1951. This home run climaxed a phenomenal year as the Giants came from way behind to overtake the Dodgers, win the National League pennant, and go to the World Series. Looking back from 2001, both teams have left New York and the Polo Grounds no longer exists. But that day in 1963 as a child I touched the past. These days as an adult I've become drawn to the covered bridges of Vermont. I've enjoyed visiting some of the covered bridges here. There are so many more I need to visit. But there are some that I will never be able to see. These are the ones, like the baseball teams and stadiums and parks long gone, that has gotten my attention lately. I never got to go to Ebbets Field. It existed in an era that was drawing to a close when I was very young. I can only go there through books and old videos recounting the Boys of Summer. I've read that there were once over 500 covered bridges in Vermont. Current statistics show that there are now around 100 bridges remaining now. Time and the elements are constantly at work trying to reduce the remaining covered bridges. The PowerHouse Bridge in Johnson was the most recent victim. I used to like to drive through that bridge when visiting my daughter at Johnson State College. It was sad to see the pictures in the paper of the demolished bridge, this most recent victim in the battle against time, laying in the Gihon River this past March. But where have the rest of the covered bridges gone? Where were they located? How much information exists about these antique treasures? Can we reconstruct the history of these lost bridges? When were they built? Who built them? When were they destroyed? These are some of the questions I hope to find answers to. Some day it would be great to have an anthology of all of Vermont's covered bridges, both past and present. Or even a small plaque commemorating the location and history of each of these old covered bridges. For now, I'm discovering them through picture post cards showing some of these extinct covered bridges. I have started collecting as many pictures as I can find. So far I've found a few covered railroad bridges and various covered bridges in remote towns. Some are listed as just belonging to a county. There is even one shown on Little River Road outside of Waterbury. I wonder if there were covered bridges that existed in the valley before the Waterbury Dam was built. Most recently I've come across 3 interesting covered bridges that once existed in Rutland, Vermont. Since there are presently no covered bridges left in Rutland, these have either been destroyed or replaced. Maybe there were more in Rutland but this is all I see for now. Where were they located? Can we find the answers to all these questions? I'd like to know the who, what, where, when and why of extinct covered bridges. So I find myself today in some ways like I was as a child at the Polo Grounds. Just as I visited the Polo Grounds at the end of an era, so today I am able to see covered bridges still in use, the remnant of a past era in Vermont. They are very old and some are badly in need of repair. Modern times have passed many of them by. Some you have to look very hard to find. In seeing them, I find myself again touching the past. We know a lot of their histories. Many books have been written in detail about the remaining covered bridges here in Vermont. But the past I want to discover is illusive like the Ebbetts Field of the past, which no longer exists. These are the bridges, whose story was once written; these are the stories that need to be uncovered again. Once this is done we'll all be able to reach back and touch the past we may have never known. Here are the three pictures of the Rutland covered bridges. Does anyone have any information concerning these bridges? Please contact me with any information or stories. My e-mail address is: spmiyamoto@adelphia.net.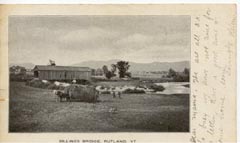 Rutland Covered Bridge circa 1913 →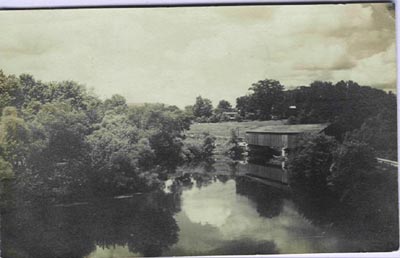 Rutland Covered Bridge circa 1907 →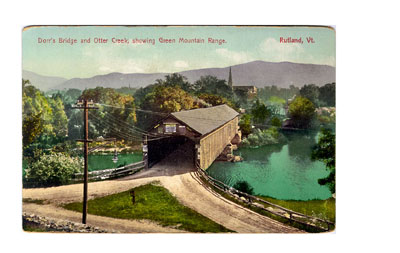 Dorr's Covered Bridge. →

Joe Nelson, P.O Box 267, Jericho, VT 05465-0267, jcnelson@together.net
Copyright © 2001, Steve Miyamoto
This file posted June 12, 2001