travels with knapps
Back to Archives. More with Chuck and Nancy.
Travels with Nancy and Chuck Knapp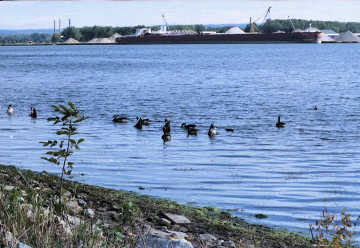 Ducks at Presque Isle State Park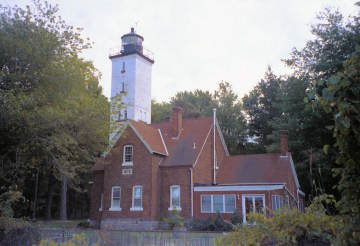 1812 lighthouse at Presque Isle
April 13, 2006 - I'm sorry I didn't get these negatives to you sooner so you could see what we have been up to. I started a letter to you back in December, but just didn't get it finished, [so, finally,] here we are.
The first of these were taken early October, 2005. We were on our way home from Ashtabula County, Ohio. We were at Presque Isle State Park, Erie, PA, looking at Port Erie. I was trying to get a good shot of the ducks. Presque Isle is a beautiful and relaxing place where there are many marinas, picnic areas, trails, and beaches. Also there were two light houses.
We were on the Lake Erie side of Presque Isle out on one of the many sand dunes trying to get a good picture of the 1812 lighthouse. Lighthouses are my other passion.
We stopped to see the Sonestown Bridge December 3 on our way to York, Pennsylvania. Chuck said the bridges need some work both from floods and vandals. A hole can be seen in the side of the bridge.
[Davidson/Sonestown Covered Bridge, East Muncy, Sulivan County, Pa. (WGN 38-57-03), 110 feet, built circa 1850 to cross Muncy Creek using a Burr truss - World Guide, 1989]






Sonestown Bridge, Sullivan County, PA
38-37-03

Sonestown Bridge, Sullivan County, PA
38-37-03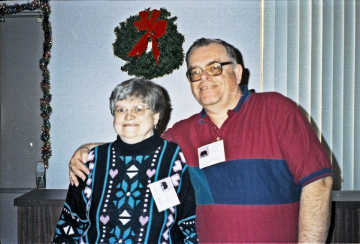 Nancy and Charles Knapp, December, 2005

Joe Nelson, P.O Box 267, Jericho, VT 05465-0267 This file posted September 28, 2006