Back to First Page
Next Page: A Special Book Offer
Book Reviews
the book
Spanning Time: Vermont's Covered Bridges,
by Joseph C. Nelson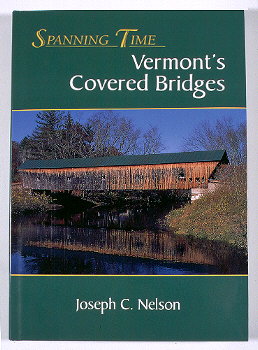 Spanning Time:Vermont's Covered Bridges, by Joseph C. Nelson, features 102 color photographs of Vermont's covered bridges in fifteen chapters, each a guided tour. The tours are complete with maps, commentary on the uniqueness of each bridge, and historic highlights about the towns and villages in which the bridges are found.
An appendix provides:
A Summary of Vermont's Covered Bridges, listing vital information on each bridge;
A Covered Bridge Glossary, naming and describing the details of a covered bridge;
A Bridge Truss section, explaining how trusses work with drawings of the several trusses used in Vermont;
The Bridge Builders, providing thumbnail biographies of the people who designed and built the bridges;
A Covered Bridge Reading List, for bridge and history buffs who want to read more;
A detailed Index.
Author Joe Nelson is a freelance writer, spare time artist, and photographer. Anyone who would share their knowledge of covered bridges and Vermont history are invited to contact him by E-Mail or by snail-mail: P.O. Box 267, Jericho, Vt 05465.
Spanning Time: Vermont's Covered Bridges: 7" x 10", 288 pages, ISBN 1-881535-25-8. The publisher is New England Press at P.O. Box 575, Shelburne, VT 05482
Spanning Time is available through New England Press (see Link page), Barnes & Noble and other bookstores. Also try the Amazon book search engine at: Amazon book search (search on Spanning Time).
Or get a signed copy directly from the author. Press A Special Book Offer
---
Joe Nelson, P.O. Box 267, Jericho, VT 05465-0267, jcnelson@together.net

No part of this web site may be reproduced for commercial purposes without the written permission of Joseph C. Nelson
Text Copyright © 1997, Joseph C. Nelson
Photographs Copyright &copy, 1997, Joseph C. Nelson
Illustrations Copyright &copy, 1997, Joseph C. Nelson
This file updated 11/05/2016