scottbr.windamag
Back to CB Archive
SCOTT COVERED BRIDGE DAMAGED BY WIND
WGN 45-13-13
Update: Townshend, March 26 - " The roof damage is closer to 150' long," says Mark Thompson, of Neil H. Daniels Construction, Ascutney. "We have staged the North side of the bridge at the eave for access and have sistered the rafter tails in this section for added nail holding ability.
"All of the sheathing that was blown off with the roofing has been replaced and we are about to have T. H. Roofing, Inc. of Chelsea, VT begin replacement of the roofing material. Daniels is currently replacing siding that is missing with the use of swing staging," Mark Thompson said.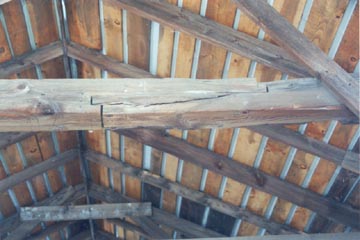 Scott Bridge- Broken Tie-beam near westerly end.
Photo by Wilfred Thompson, 02/24/02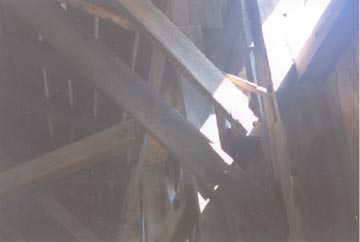 Knee-braces pulled from vertical posts.
Photo by Wilfred Thompson, 02/24/02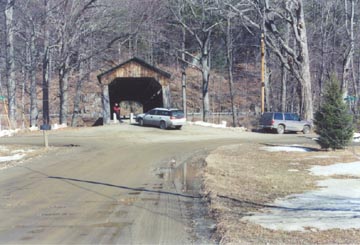 Considerable racking evident at the west portal.
Photo by Wilfred Thompson, 02/24/02
Townshend, February 26 - VCBS Bridge-watch volunteer Wilfred Thompson reported that the 290-foot Scott Bridge had suffered wind damage.
Bridge-watch coordinator John Weaver, who received the report, passed it on to Eric Gilbertson, Deputy State Historic Preservation Officer: "A 105' x 12' section of the roof covering is missing and several kneebraces are simply dangling loose. Upper chords are showing signs of failure and floors are sagging on the kingpost spans. This was all verified by on site inspection Sunday, by our VCBS volunteer."
Gilbertson had already reacted, said Weaver. "The Department of Historic Preservation (DHP) already has a contract with the Daniels Construction Company of Ascutney to fix the roof. Eric will have him fix the kneebraces as well. Also, to enhance maintenance activities, DHP is in the process of conveying care of the bridge to VAOT.
Wilfred Thomson, a retired engineer and covered bridge enthusiast is a resident of East Lyme, Connecticut. He regularly tours Vermont's southernmost bridges and serves as Windham County Area Bridge-watch.
In addition to the loss of the roofing and knee braces pulled from away from vertical posts, Thompson's report noted damage to the upper chord timbers, inside and outside on the north side of the bridge, and also on the north side, upper chords bowed apart; treenails at the easterly end missing; a broken tie-beam; and considerable racking at the west portal.

Joe Nelson, P.O Box 267, Jericho, VT 05465-0267, jcnelson@together.net


No part of this web site may be reproduced without the written permission of Joseph C. Nelson
This file posted March 23, 2002, revised March 28, 2002