sayre jligon
Back to Archives.
Thetford's Sayre's Bridge Rehab [WGN 45-09-06]
The way we found it - before we closed the bridge.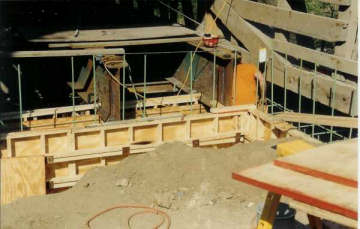 Concrete forms are ready for the new seat on the South side. Those rusty steel beam ends will receive a set of new plates to make them last a little longer.
Siding removed - the locals love it this way and would love to see it stay like this. Unfortunately, it would rot away quickly.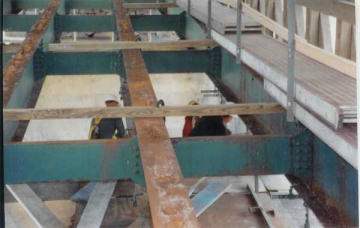 The old bridge deck has been removed, and a temporary work platform is being installed underneath. The platform will serve as a part of the containment system for the removal of lead paint from the steel beams, as well as worker access for new painting, new decking, siding, fire coating, and bug sprays. The platform will be removed when work is complete.
Steel beams to the left have been sandblasted and primecoat painted. The covered area is undergoing lead paint removal and primecoating.
June 11, 2007 - Hi Joe. The 1839+ Sayre's Bridge in Thetford Center has been receiving some minor reconstruction work since April. We have removed the old deck and siding. The *historic* since 1963 steel beams are being sandblasted and repainted brown instead of green. The steel beam ends have a ½" vertical bow in the web where they were failing. Six foot long plates have been added per state design to correct that issue.

The south abutment was lifted off the bearings, and the concrete cap has been replaced. The steel beams are set back down on the new concrete. The old timber structure is independent of the traffic deck, and will be set fairly level later in the project. Previous improvements to the bridge were done without addressing the existing sag in the timber structure. This includes a new roof system, which we aren't allowed to disassemble. We will raise the mid-span to as level as we can without popping the new roof.

An issue still being discussed is the vertical clearance at the portals. The state wants a 13'-0" clearance to the portal tie beams, and then straight-line the chords. That's not a problem to do. But the independent steel beams have quite a camber to them which raises the travel deck upwards to mid-span. The problem for high trucks is that if they clear the portals ok, they will take out the tie beams in the center of the bridge, which they have done for years. One log trucker even chain-saw notched the tie beams so that he could fit through the middle of the bridge! Many of the tie beams have been replaced because of that problem. Since our contract was awarded, another two tie beams at mid-span have been hit and need to be replaced as an extra.
Anyhoo, the bridge will again be open to traffic by the end of September.

Best regards- Jim

































Joe Nelson, P.O Box 267, Jericho, VT 05465-0267 This file posted 6/12/2007
Photos © 2007 Bob Brown, Thetford, used by permission
Text and captions by Jim Ligon