Covered Bridge Community News Notes - 2007
Funds Secured for Martins Mill CB Rehab
[WGN PA-28-01]
December 30, 2007 - Greetings to Our Bridging Friends:
TBCBSP member Joyce Soroka sent us this good news about the Martin's Mill CB in Franklin County, PA; and, requested that we relay it to those of you on our "bridging friends" list. We are pleased to forward the news release below from www.house.gov/shuster:
Shuster Secures $245,000 for the Rehabilitation of the Martins Mill Covered Bridge Washington, D.C. –Congressman Bill Shuster is pleased to announce that he successfully secured $245,000 in the Omnibus Appropriations Act to fund a project for the rehabilitation of the Martins Mill Covered Bridge in Franklin County.
"Pennsylvania is renowned for its collection of historic covered bridges and Franklin County is no exception," Shuster said. "For 158 years the Martins Mill Covered Bridge has stood as a lasting link to our past and remains the largest lattice type covered bridge in the state. I am pleased to have secured the money necessary to keep this structure in top form for future generations."
The $245,000 will be used to rehabilitate the 200 foot bridge located in Antrim Township. The bridge was last rehabilitated in 1973, when it was damaged and carried downstream in the wake of Hurricane Agnes.
Happy Bridging,
Ben and June Evans
---
Two Preble County, Ohio CB's to Close
EATON, OH,December 6, 2007 - Approach roads will be closed to traffic for four months while the Christman and Harshman covered bridges are repaired.
The Christman Bridge, OH-68-12, 85 feet in length, was built in 1887 using the Childs truss to cross Seven Mile Creek, serving Eaton-New Hope Road.
The Harshman Bridge, OH-68-03, 104 feet in length, was built in 1894 with the Childs truss to cross Four Mile Creek. The bridge serves Concord-Fairhaven Road.
For more information on the closures check out www.prebeng.org.
[Our thanks Tom Keaton - Ed.]
---
Ashland Covered Bridge Rehab Begun
New Castle County, Delaware, December 7, 2007 - The first phase of a $434,000 rehabilitation began on the Ashland Covered Bridge Monday, December 3.
The 52-foot Ashland Bridge, DE-02-02, was built in c1870 using the Town truss to cross Red Clay Creek. The bridge, one of just three covered bridge spans surviving in Delaware, serves Brackenville Road.
The other survivors are the Wooddale covered bridge on FoxHill Lane, and the Smith covered bridge in Centerville.
The 60-foot Wooddale, DE-02-03, a private bridge, built in 1870 to cross Red Clay Creek using the Town truss, is currently being rebuilt after suffering damage from tropcal storm Henri.
The 139-foot Smith Bridge, reconstructed in 2002, was originally built in 1839 using a Burr truss. It serves Beaver Valley Road, crossing Brandwine Creek.
For more news, go to:
http://www.delawareonline.com/apps/pbcs.dll/article?AID=/20071205/NEWS/71205014
[Our thanks to Tom Keaton - Ed.]
---
---
Mood Bridge Fire Alerts Haycock
Bucks County, PA, October 4, 2007 - The Town of Haycock, bordering the town of East Rockhill, is worried about the fragility of their Sheard Mill covered bridge (38-09-06).
The loss of East Rockhill's Mood Bridge (38-09-07) in 2004 has alerted the Haycockians to the vulnerability of their own covered bridge. The Town will ask Bucks County for funds to repair and fireproof Sheard Mill Bridge.
Haycock's supervisors voted October 1 to apply to the county, with neighboring East Rockhill, to get money for the Sheard's Mill bridge preservation work from the Federally funded community development block grant program, which is administered by the county. The two towns will work together on the project because the bridge is on their border.
The cost of repairing Sheard Mill bridge is estimated to be $75,000, including $11,299 for applying No-Char fire preventer.
Should the county grant the full amount requested, some work will not be covered - the replacement of the bridge floor and Roof, estimated to be $95,088, and $74,095 respectively. Town officials hope the state Department of Transportation, owner of the bridge, will fund the balance of the work if the municipalities start it.
The 130-foot Sheard Mill Bridge was built in 1873 to cross Tohickon Creek using a Town truss.
[Our thanks to VCBS member Doris Taylor for sending us the clipping on which this item is based - Ed.]
---
---
Bucks County CB Society Founded
Bucks County, PA, October 11, 2007 - The burning and rebuilding of Mood's Bridge in East Rockhill, and the vulnerability of the other covered bridges in the county inspired the founding of a new covered bridge society.
The new society is chaired by William Wilson, a member of East Rockhill's park and recreation board.
"Our mission . . . is to preserve the history, character and structure of the bridges," said Wilson, "We want to work to protect them and create public interest in them. They're part of our heritage and we're lucky in Bucks County to have a number of them."
The Bucks County Covered Bridge Society plans to host a festival in the spring to mark the reopening of the Mood's bridge, and to raise money to fireproof other covered bridges in the county.
From a total of 36, there are 11 covered bridges dating from the 1800's surviving in Bucks County. The old bridges were lost to the elements, traffic, and modernization, and lately, as with Mood's, to arson.
The Mood's bridge dedication, tentatively scheduled for April 14, will include a fund-raising festival featuring vendors, chances, prizes and craftspeople demonstrating crafts from yesteryear. It also may include a fund-raising breakfast on the rebuilt bridge.
The Bucks County Society meets 7 p.m. on the first Tuesday of each month at the East Rockhill Township building, 1622 Ridge Road, Perkasie.
[This item is based on a clipping from the Bucks County Herald sent in by Doris Taylor - Ed.]
---
The Coulée-Carrier Bridge Lost
by Gerald Arbour
November 16, 2007 - The Coulée-Carrier Bridge in Quebec, Matane County (61-42-03) was washed away last night.
Heavy rains in a very short period of time raised the Matane River water level and the bridge was washed away and completely destroyed.
Plans were underway to move this bridge closer to the former Durette Covered Bridge (61-42-02) site to be used as an access to a golf club. A few years ago, the bridge was almost lost due to high water.
Heavy equipment was on the site to destroy the old wooden bridge and protect the new concrete bridge. Both were pretty close. I don't know yet if this is what happened last night.
---
Saucks Covered Bridge Hit By Vandals
Adams County, Pa., Sept. 20, 2007 - Saucks Covered Bridge [38-01-01] was found to have been visited by vandals. A few boards have been damaged and fresh spray-painted graffiti added of the type used by gangs.
The 91-foot bridge was built in 1854 using the Town truss to span Marsh Creek, connecting Cumberland and Freedom townships.* The structure is owned and maintained by Adams County.
Both sides used the bridge in the Civil War Battle of Gettysburg. The bridge was closed to automobile traffic in 1968.
Efforts to restore the bridge began in 1996 and $100,000 was raised. Unfortunately a flood damaged the bridge further and an additional $500,000 was required. The restoration was completed in 1997.
*Per NSPCB World Guide to Covered Bridges
[Thanks to Janet Corby for sharing this news item adapted from the Gettysburg Times - Ed.]
---
Gilky Covered Bridge Damaged by Truck
SCIO, Ore., Sept. 18, 2007 - A farm equipment service truck struck and seriously damaged the Gilky Bridge serving Goar Road
The truck took out some of the bridge's support beams, making the bridge structurally unsound, according to investigators. It will be closed for the next month. The driver of the truck will be ticketed, according to deputies. Alcohol was not a factor.
The 120-foot Gilkey Bridge, 37-22-04, was built in 1939 using the Howe Truss to span Thomas Creek.
For details and photos, go to http://www.kptv.com/news/14140568/detail.html
[Thanks to Tom Keating for finding and sharing this article - Ed.]
---
Ockenauer Steg Covered Bridge
Ockenauer Steg
WGN WG-01-32
July 1, 2007 - Hi Joe:
See below for pictures of another cb in Germany, sent to me by Gregor.
Have a Happy 4th. Tom
----- Original Message -----
From: "Gregor WENDA"
To: "Tom Keating"
Sent: Sunday, July 01, 2007
Subject: Ockenauer Steg

Hi Tom,

I have some info on another wooden covered bridge in Germany (province of Baden Wurttemberg). It is called "Ockenauer Steg" and crosses the river Jagst. A photo can be viewed here: http://www.kirchberg-jagst.de/data/historischeAltstadt.php#27
All the best, Gregor
[Okenauer Steg is listed in the World Guide as crossing the Jagst River near Kirchberg-Mistlau, 35-feet long, using an extended queen post truss, built in 1779 - Ed.]
---
Delaware's Wooddale CB to be Rebuilt
July 3, 2007-Destroyed in September 2003 by Tropical Storm Henri, the Delaware Department of Transportation has put out bids for rebuilding the Wooddale covered bridge.
For the story of the project go to http://www.delawareonline.com/apps/pbcs.dll/article?AID=/20070703/NEWS/70703061
Construction is expected to begin in September and take about a year. The sixty-foot Wooddale bridge was built in 1870 to cross Red Clay Creek using the Town Truss.
The Wooddale bridge, WGN 08-02-03, was one of two covered bridges to survive in the state of Delaware.
[Our thanks to Tom Keating for bringing this article to our attention - Ed.]
---
Low's Bridge Destroyed, 1987, Story & Slides
Me-11-01
March 31, 2007 - Hi Joe, here's a link with a slide show of Low's Bridge being destroyed in 1987:
http://bangordailynews.com/news/t/news.aspx?articleid=148119&zoneid=500
Low's Bridge, 130-foot long in a single span, was built in 1860 using Long's Truss to cross the Piscataquis River near Sangerville, Maine.
Tom Keating
[Our thanks to Tom Keating for sharing his find on the internet - Ed.]
---
Perry County covered bridge damaged
March 28, 2007, Newport, PA - A truck passed through the Fleisher Covered Bridge [WGN 38-50-17] on fairground Road, west of Newport damaging seven tie beams.
According to the state police the incident occurred on or about March 8. Anyone with information are asked to contact the state police at 717 567-3110.
One hundred and twenty-four feet long, the bridge was built in 1887 using the Burr Truss to cross Big Buffalo Creek.
[Thanks to Tom Keating for sharing his clipping from The Patriot News - Ed.]
---
Brattleboro's Creamery Bridge Reopened
Brattleboro's Creamery Bridge
Photo by Joanne Esau, 2-9-07
Brattleboro, VT, March 7, 2007 - The Creamery Bridge, WGN 45-13-01, is reopened temporarily until the prevailing weather moderates allowing completion of the project.
The bridge will be closed again later this spring for about three weeks to finish the work, which includes painting.
The new laminated floor is without the familiar longitudinal oak running planks but features new 8" x 8" bumper timbers to guide vehicles away from the bridge trusses. The Renaud Brothers, Inc. are the contractors.
The 84-foot Creamery Bridge was built in 1879 by A.W. Wright using the Town Truss to cross the Whetstone Brook, replacing an earlier bridge lost to high water. It is one of the few covered bridges in Vermont to sport a slate roof, which was added in 1917, along with a pedestrian walkway. The bridge is named for the Brattleboro Creamery which stood nearby.
The Creamery Bridge serves Guilford Street and the popular Living Memorial Park off Vermont Route 9.
[Thanks to Tom Walczak for alerting us to this event - Ed.]
---
Decision nears on Cold River bridge
Walpole, NH, January 25, 2007 - A new bridge will replace the double arched bridge built in 1907 and lost to the October, 2005 flood.
At the New Hampshire Department of Transportation hearing held January 24, residents of Walpole and the surrounding towns of Langdon, Alstead, and Actworth favored a hybrid timber, steel and concrete design proposed by Benson Woodworking over an originally favored "butted box" design.
Residents are invited to submit further comments on the design choices or other aspects of the project through Feb. 3 to Mr. Joel McCarty, chairman of the commission, C/O James Moore, director of project development, New Hampshire DOT, P.O. Box 483, Concord, NH 03302-0483 for inclusion in the official record.
DOT project manager Robert Landry said that a decision on the design would be made a week or so after the conclusion of the comment period.
[Thanks to Tom Keating for sending this news item to us. To read the full story, go to: http://www.eagletimes.com/main.asp?SectionID=1&SubSectionID=4&ArticleID=2335&TM=233.277 - Ed.]
---
Official State of Indiana web-site
January 19, 2007 - Here is an official State of Indiana web-site which should be of interest. The study is 192 pages, so if you download that, I hope you have a fast connection. It looks to be very interesting: http://www.in.gov/dot/programs/bridges/inventory/index.html
Jim Crouse
Unknown Pony Bridge Found in Quebec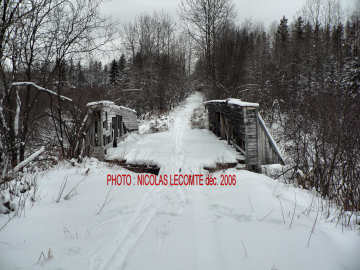 Hall Creek Pony Truss. WGN 61-02-P11
Photo by Nicolas Lecomte December, 2006
January 20, 2007 - Hi everyone, Last December, Mr. Nicolas Lecomte, from Beaucanton, Abitibi has reported the existence of an unknown pony bridge here in Quebec. That bridge is located on Hall Creek on an abandoned road north of Val Paradis, hometown of the Pionniers Bridge (61-02-32). The World Guide number for this new bridge is 61-02-P11.
Gerald Arbour










---
Jackson CB [IN-61-28] on Website
Park County, IN, December 29, 2006 - The Jackson Covered Bridge page on http://www.parkecountyliving.com is up and ready to be read. There are pictures showing the bridge in June, 2006, before the rehabilitation and again in December, 2006, after the rehabilitation had been started.
The progress on the rehabilitation of the Jackson Covered Bridge will be documented on this website on a regular basis.
The photos of the Bridgeton Covered Bridge reconstruction from January 12 through November, 2006 are also there.
If you would like to purchase the Friends of Parke County Covered Bridges DVD of the Bridgeton Bridge rebuilding, a link is provided to their order form.
Katharine Marsolf
[Thanks to Jim Crouse for forwarding this item - Ed.]
---
More European CB Links From Gregor Wenda
January 6, 2007 - Another interesting link:
http://grenzen.150m.com/liechtensteinD.htm
Outside Vaduz, Liechtenstein, an old wooden CB spans over the river Rhine connecting Switzerland and Liechtenstein. The bridge is used by pedestrians and cyclists (see photos by going here: http://grenzen.150m.com/liecht06.JPG or:
http://www.freiepresse.de/FREIZEIT/REISEN/REISEBERICHTE/BILDTEXTE/191896.html
I came across the following web site (unfortunately in German only) featuring a new wooden CB in Tyrol, Austria:
http://www.grossmann-bau.de/html/frame.html?/holzleimbau/referenzen/staffenbruecke.htm
This wooden CB was built in less than four months in 2003 and serves as a two lane traffic bridge. It is among the largest wooden traffic bridges in Europe and particularly interesting as it is covered. Span length: 50,4 meters; construction costs: 1 million Euros.
January 22, 2007 - I stumbled across a vintage photograph of the bridge at Andau soon after it was destroyed in 1956. The source is the Austrian Customs magazine (spring 2006 issue). Just thought it might be an interesting addition to the before-mentioned information.
All the best, Gregor
[Thanks to Tom Keating for sharing Gregor Wenda's email safaris - Ed.]
---
Indiana House Bill Seeks More Bridge Benefits
Indianapolis, IN, January 3, 2007 - Indiana House Bill 1034 asks the state to increase the annual appropriation from $1,250 to $2,000 per bridge.
The increase would affect 79 bridges maintained by counties and cost the state an additional $59,250, according to the state's Legislative Services Agency. The funds would come from the Motor Vehicle Highway Account. The bridges now receive under $100,000 a year in state funds.
State Representative F. Dale Grubb, who introduced the bill, said he pledged to seek the increase after attending the rededication in October of the Bridgeton Covered Bridge in Parke County, two-thirds of which lays within Grubb's district.
Grubb said the annual Parke County Covered Bridge Festival rivals the Indianapolis 500 in terms of the number of tourists it draws. Tourism is the county's second-most important industry, behind agriculture.
[Thanks to Jim Crouse for forwarding the article from which this news was taken - Ed.]
---
Bath Bridge Reopened
Bath, NH, January 8, 2007 -The Bath Covered Bridge, WGN 29-05-03, was reopened after being closed for three weeks for repairs. The bridge is posted for 3-tons allowing only pedestrians and light traffic. The bridge is closed to truck traffic, including emergency vehicles and school buses.
The bridge was closed when DOT inspectors found three floor joists severly cracked and support blocks out of position. The bridge was reopened when temporary repairs were completed.
The town had sought bids for a $90,000 repair project, but there were no bidders. Meanwhile, the bridge is on DOT's funding list for restoration in 2009 for an estimated $1.6 million in state money, the town to pay 20 percent.
The restored bridge will be posted for 6-tons for light traffic only. Emergency vehicles will continue to be banned.
[Our thanks to VCBS Life member Ann Ovit for forwarding the Caledonia Record clipping from which this report was gleaned -Ed.]
---
Whittier Bridge Closed to Pedestrians
OSSIPEE, NH, January 8, 2007 The Whittier Covered Bridge, WGN 29-02-08, was closed last fall to all traffic by the board of selectmen out of concern that the span may fail.
The down-stream lower chord was found to be rotted due to a roof leak. A Paddleford Truss with auxiliary arches, the downstream truss is sustained mainly by the laminated arch.
A report to the selectmen last December stated that the bridge needs to be stabilized until funds are raised for long-term restoration. Stabilization is estimated to cost between $92,000 to $130,000. The cost of restoring the bridge is estimated to be from $763,000 to $850,000.
The Town is seeking funds for the repairs and has applied for a Land and Community Heritage Investment Program grant of $50,000. Federal funds may not be available until 2008.
The bridge may be stabilized by supporting it on steel I-beams or by removing the bridge from the river by cranes.
The 132-foot Whittier Bridge spans Bearcamp River at West Ossipee Village once serving old NH Route 125. The present bridge was built in the 1870s by Jacob Berry, the fourth bridge to serve this crossing since 1791.
The most recent restoration of the bridge was completed by Milton Graton and Sons of Ashland, N.H. in August, 1983 at a cost of $85,000, the funds coming from Gordon Pope and the state. The bridge was closed to vehicular traffic in the spring of 1989.
[Our thanks to Tom Keating for forwarding the article from which this report is gleaned. For the full text go to: http://www.unionleader.com/article.aspx?headline=Officials+fear+Ossipee's+historic+bridge+may+fall&articleId=dd3c554e-24bd-46aa-b683-e823d8e30ca1 -Ed]
---
A Covered Bridge Wedding
December 21, 2006
Joe
While I was on vacation in the White Mountains in early October, I followed signs to the Newry Bridge [Sunday River, ME-09-04]. near Bethel, Maine. I reached the bridge just before the start of the Julie Philbrook/William Dupuis wedding. I had heard of such uses for a covered bridge, but this was my first time to experience one, just by happening to show up at the right time.
Enclosed are several photos I took of the wedding. I am also sending some to the NSPCB and of course to the bride and groom.
Best regards, Lyn Whiston
Sunday River Covered Bridge wedding, October, 2006
Newry Township, Maine.

Sunday River Covered Bridge wedding, October, 2006
Newry Township, Maine.