Covered Bridge Community News Notes - 2006
Haverhill, Bath Accept Covered Bridge Bid
Haverhill, NH, November 28, 2006 - "The Haverhill-Bath Covered Bridge rehabilitation is now officially moving forward with approvals from the Towns of Bath and Haverhill," emails Project Manager Sean James of Hoyle- Tanner Associates of Manchester, NH. "Wright Construction is the contractor for the project and originally bid $1.18M for the project. We have been negotiating to meet the Towns budget for the project and should have a signed contract soon. Construction is expected to begin in the spring of 2007."
The Bath- Haverhill Covered Bridge, WGN 29-05-04, will be restored for pedestrian use.
After discussion about the project at the October 30 joint meeting of the Haverhill and Bath boards of selectmen, the boards voted to approve the sole bid from Wright Construction, provided that the price of any change orders would be locked in for any further work, including decking.
Officials from both towns are hoping area lumber companies will donate lumber for both the siding and decking. If those donations are realized, the bridge also could see its decking replaced. For now, the roof will remain the same. Some board members were concerned about not approving the option that included replacing the decking and the roof. But that option would have left the towns with about $19,078 shortfall.
With the approval of the base bid, construction could start as early as November. It is estimated the bridge work will take about eight months to complete. The rehabilitation is being paid for with federal and state assistance, coupled with money raised by the Bath- Haverhill bridge committee.
The 256-foot Bath- Haverhill Bridge was built in 1829 at a cost of $2,400 divided between the two towns. The bridge crosses the Ammonoosuc River in two spans using the Town Truss with arches.
[Thanks to Sean James for his comments and to VCBS member Ann Ovitt for sending us the Caldonian Record 10/31/06 clipping - Ed.

Mechanic Street Bridge Reopened
WGN 29-04-06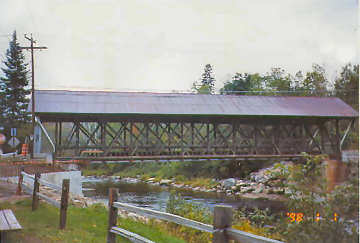 Mechanic Street Bridge. WGN 29-04-06
Photo by Liz Keating, September 18, 2005
Lancaster, NH, December 7, 2006 - The Mechanic Street Bridge was opened to traffic Wednesday morning with a small group of happy celebrants. The bridge had been closed for two years due to safety issues.
Repairs cost $750,000, with the New Hampshire Department of Transportation providing $600,000, the Town paying the rest.
Rated for 6 tons, the bridge stands east of US Rte 2 & 3 on Mechanic Street. The 94-foot structure was built in 1862 using the Paddleford Truss to span the Israels River. According to New Hampshire Covered Bridges - A Link With Our Past, the original cost is unknown.
[Thanks to Ann Ovitt for forwarding this news to us - Ed.]







Work Begun on Eagleville and Rexleigh Bridges
November 21, 2006 - Work had started on the repair of both bridges. The Work will be on-going through the winter on both bridges. I am sending a picture of the Eagleville and Rexleigh bridges that I took on November 22nd. As you can see, the Howe Truss is laying on the floor of the Rexleigh Bridge - Dick Wilson
Rexleigh Bridge, WGN 32-58-03.
Photo by Dick Wilson November 22, 2006

Eagleville Bridge, WGN 32-58-01.
Photo by Dick Wilson November 22, 2006
The Bridge at Andau
November 11, 2006 - In these days, an Austrian wooden covered bridge has become the focus of attention again. It is the so-called "Bridge at Andau" which spans over the "Einser Canal" at the Austrian-Hungarian border. For a picture see:
http://www.tiscover.at/at/guide/5,en,SCH1/objectId,SIG219602at,curr,EUR,parentId,RGN22at,season,at1,selectedEntry,sights/intern.html


During the Hungarian revolution of 1956, refugees escaped the communist regime by crossing the border from Hungary into Austria by using a small bridge. These tragic events were memorialized by James A. Michener in his book "The Bridge at Andau". In 1996, the Andau bridge which had been blown up by Hungarian soldiers on 21 November 1956 was reconstructed. It is probably the most famous CB in Austria
Gregor Wenda (From an email to Tom Keating. Our thanks to Tom and Gregor for sharing this story - Ed.)
Alland, Austria Foot Bridge
September 9, 2006 - Our thanks to VCBS member Tom Keating and his friend Gregor Wenda of Austria for sharing these photos.

Gregor, who took these pictures comments: "Please find attached . . . new pictures of an Austrian CB for your collection. They all show a wooden covered bridge in the municipality of Alland (province of Lower Austria) that crosses the river Schwechat. The CB dates back to 1745 and was completely redone in 1993 . . . "
[The World Guide lists the bridge as A-03-01, an 89-foot queen post in two spans. -Ed.]
---
NYSCBS at Hyde Hall Celebration
Hyde Hall, NY Sept 9, 2006 - Hi, This is a picture of the New York State Covered Bridge Society members that attended the Hyde Hall dedication of a Historical Marker that proclaim's that the Hyde Hall Covered Bridge is the Oldest Covered Bridge in the United States. This was on Sept. 9, 2006.
Richard Wilson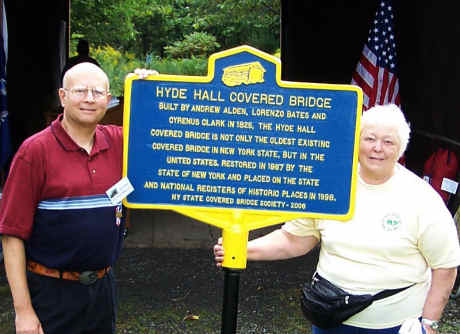 Dick and Jeanette Wilson with the new historical marker
---
Bridgton Bridge Arsonist Charged
by Cathy Harkrider
August 6, Parke County, Indiana - The Parke County Tourist Information Center reports that Jesse Lee Payne, who burnt the Bridgeton Bridge, Jeffries Ford Bridge and attempted to burn the Mansfield Bridge could be facing an indefinite commitment to a state mental hospital, according to reports to Parke Circuit Court Judge Sam Swaim.
A new "Comprehension to Stand Trial" report received on July 27 from Dr. Robert Sena at Logansport State Hospital, states that Jesse Payne could remain in a state facility indefinitely. The reports states "to a reasonable degree of medical certainty.
Jesse Lee Payne remains unable to assist counsel in his defense and attend the legal proceedings." Payne has been charged with arson of the Bridgeton Covered Bridge, attempted arson of the Mansfield bridge and arson of the Jeffries Ford Bridge. Payne faces 6 to 20 years on each count and possibility of another 10 to 30 years for habitual offender.
Ref www.parkecounty.com
[Thanks to Jim Crouse for forwarding this article - Ed.]
Panache Covered Bridge Site Cleanup incomplete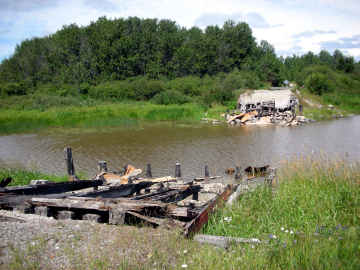 Panache CB site. 61-01-21. Photo by Gerald Arbour July 25, 2006
Tuesday, July 25, 2006 - Few days ago, I took a walk to the Panache Bridge site, (61-01-21). According to my photo, no clean up has been done. I think the bridge burned to the ground when it collapsed on the ice and the renmants sank this spring. Note that pier is completely gone and the piltings burned to about 2 feet high.
Gerald Arbour
[Editor's note: See "Panache Bridge Burned" article below. Burned in May of this year, the 89-foot Abitibi-Est County, Quebec bridge was built in 1955 to span Panache Creek using Town Truss variation.]
Covered Bridge on Road to New Life
July 13, 2006. Union County, Ohio - The Upper Darby, or Pottersburg covered bridge was moved off the Big Darby Creek to make way for a modern bridge. See the article by Holly Zachariah, of the THE COLUMBUS DISPATCH by going to the link below:
http://www.dispatch.com/emailme/emailme.php?story=dispatch/2006/07/13/20060713-D1-03.html
According to the World Guide to Covered Bridges, 1989 edition, The 94-foot Upper Darby bridge, WGN 35-80-01, was built in 1868 using the Partridge truss.
[Thanks to Charles Dinsmore for forwarding the article - Ed.]
Columbia County PA Covered Bridge Links
July 3, 2006 - Greetings to our bridging friends
: We received the information below from Robert Parks of the Columbia County Covered Bridges Association last evening. It provides a number of links to reports of the covered bridge losses in the Columbia County Area of PA:
To those of you interested in the events of the recent 'Flood of '06' regarding the covered bridges, here are some news courtesy of David Kline of the Benton News. Forwarded Message:
Subject: Covered Bridge Links on the Benton News, www.bentonnews.net
Resent-From: rparks@usa.net, July 2, 2006

Go to the following links for news of the covered bridges:
For information about local covered bridges, go to:
http://www.bentonnews.net/Features/coveredbridge.htm
For news of Bittenbender's Bridge in Luzerne County, go to:
http://www.bentonnews.net/Features/bittenbenderbridge.htm
For news of the demise of the West Paden Bridge, one of the two "Twin Bridges," go to:
http://www.bentonnews.net/Features/westpaden.htm
For news of the repair efforts for the Josiah Hess Covered Bridge, go to:
http://www.bentonnews.net/josiahhess.htm
David R. Kline www.bentonnews.net
Lets hope that we hear of no other losses. Sincerely, Ben and June
Josiah Hess Bridge Abutments Damaged
Friday, June 30, 2006 - I have been in correspondence with Chris Young, a Columbia County (PA) Commissioner and President of the Columbia County Covered Bridges Association in regards to the flood damage in their area. On wednesday as you are already aware the West Paden Tin Bridge was washed away. Now, the Josiah Hess Bridge, PA-19-10, is in danger of collapse.
At first appeared that it was OK but as the water began to recede it bacame evident that the floodwaters had eroded the foundation and abutment and a noticeable sag developed at one end of the bridge. Please check out the website: www.bentonnews.net for photos of the damage. They are trying to get a crane in to support the bridge with a steel beam to avert its collapse. Let's keep our fingers crossed that they are successful. Hope to see some of you this weekend at our meeting & picnic in Lancaster.
Sincerely, Tom Walczak
Hyde Hall CB OK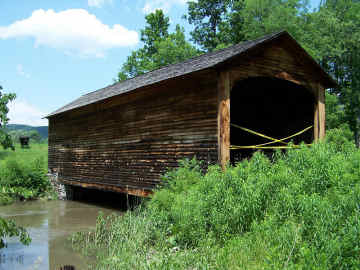 Hyde Hall CB. NY-39-01. Photo by Dick Wilson June 29, 2006

Thursday, June 29, 2006 - Hi all, As Trish said, It was sunny this morning so Jeanette and myself decided to go visit the Hyde Hall Covered Bridge to see what the flooding was like. We got on Route 20 at Bridgewater and had no trouble until just east of West Winfield. We had to get off Route 20 and travel back roads until we could join Route 20 again.

We then traveled to Glimmerglass State Park. It was open and we could park at the bridge and look upstream and see the covered bridge. We arrived at 1:30, so the pictures were taken at that time. The water had gone down and was about 3 ft. from the bottom of the bridge. There was no damage to the bridge, no boards gone or broken. We can all be thankful that the rains stopped. The abutments also looked Okay. Shadow Brook empties into Otsego Lake, and the lake is really high. In fact the picnic area near the lake is part of the lake. Picnic, then jump in your kyack right next to you and go for a paddle.

Anyway, I feel much better now that I have seen the bridge with my own eyes, and I know it is Okay. Here are some pictures of the Hyde Hall Bridge Taken June 29th 2006 between 1:30 and 2 oclock.

No more rain, Richard Wilson

Heavy Rains Threaten CB's

Jack's Mountain CB Closed
PA-01-08


Tuesday, June 27, 2006 - Hello from Adams County! Jack's Mountain Bridge, Fairfield, Pa is closed due to flooding. I have not been able to get out my street (Carroll's Tract Road) which intersects with Route 116 to check on the bridge. The water is still rising - luckily I am on the higher side of the road and most of the flooding is just across from me. Haven't heard about Sach's or other 2 Adams Co. bridges. - Pam

Southern NY Flooded

Wednesday, June 28, 2006 - As you are probably aware, much of central and southern New York State is flooded and in a state of emergency. I just received a call from Dave Peterson who is the Manager of Glimmerglass State Park where the Hyde Hall Covered Bridge is located. The situation is not good. The park is completely flooded and, of course, closed. Shadow Brook has now reached the bottom of the bridge and if the rain doesn't subside, will soon spill over onto the deck of the bridge. Although that is not good, bridges have been known to survive a little water and the Hyde Hall Covered Bridge has survived for 181 years so I am trying to remain optimistic. Dave's main concern is what debris may come down stream and hit the bridge, possibly taking it off its abutments. If this should happen, we will more than likely lose this bridge.
Please keep your fingers crossed and say a special prayer for all our bridges here in New York. As of this moment, the Hamden Covered Bridge is ok, but I don't know about the others in Delaware County. I am also very worried about the Ashoken Turnwood and Grants Mills bridges. I'll keep you posted as I learn more. - Trish Kane

West Paden Twin Bridge, PA-19-12, Lost

Wednesday, June 28, 2006 - I received a forwarded email message this evening from Tom Kipphorn, member of the TBCBSP, with the terrible news of the loss today of the West Paden Twin Bridge, PA-19-12, in Columbia County, PA. Yes, it was just a little over a month ago (May 25, 2006) that many of us gathered there to celebrate the refurbishment of the Twin Bridges & Park. Little did we know that day that it would be short lived. The West Paden Bridge was the Burr truss bridge and the longer of the two twin bridges and the one directly over the channel of Huntington Creek.
As most of you are aware, Pennsylvania and many states in the Northeast and Middle Atlantic region are suffering devastating flooding at the present time. It seems that two nearby cottages in the vicinity of the West Paden Bridge were swept away by the floodwaters and lodged against the bridge causing it to be destroyed as well. Please check out the website www.bentonnews.net/home.htm for a photo of the destruction.
I have not heard of any other covered bridge losses at the present time but I fear more bad news as many of the streams and rivers have not crested yet. Let's keep our fingers crossed. If you hear of any reports, I'd appreciate to hear from you. And as always, please feel free to pass this info on to those who I may not have email addresses for. - Tom Walczak

Hyde Hall CB


Thursday, June 6, 2006 - I received another call from Dave Peterson last night informing me that the Hyde Hall Covered Bridge made it through the day yesterday. We had a beautiful sunny day here in Central NY and no rain after about 9 am, which certainly helped. A little more rain last night and unfortunately, more rain is predicted for today. Keep your fingers crossed that the Hyde Hall Covered Bridge will be able to withstand the flood waters of Shadow Brook and nothing comes down stream to take it off its abutments.
We were very saddend to hear about the loss of the West Paden Covered Bridge in Pennsylvania. What a shame to lose yet another one of our historic structures. So far, that is the only bridge I know of that has been lost, but we still need to get through the next few days. Keep your fingers crossed everyone and let's hope for the best. - Trish Kane
---
Knox Bridge Damaged
Valley Forge, PA, June 6, 2006 - The Knox Bridge, WGN 38-15-15, at the Valley Forge National Park was damaged by an oversized vehicle. The bridge, which carries about 2000 vehicles each day, will be closed for a few days, authorities said.
The 66-foot bridge was built in 1865 using the Burr Truss to span the Valley Creek in Chester County, Pennsylvania.
West Virginia DOT Website
June 2, 2006 - Just wanted to let you know about a link to a site that covers a documentary we just completed, "CROSSINGS: Bridge Building in West Virginia." For anyone interested in covered bridges, you can find current pictures on the "Downloads" page. Please check it out and feel free to put the link on your site. The site can be found at www.wvdot.com/crossings . Thanks.
Terry Lively
Creative Services Manager
WVDOT
Jackson County seeks Bridge Funds
Brownstown, IN, May 19, 2006 -- The Jackson County commissioners will seek federal money to restore all three of the County's covered bridges, which include the Shieldstown Bridge, the Bell's Ford Bridge, and the Medora Bridge.
The county park board wants to seek 100 percent funding from the 2008 federal budget for historic bridge restoration.
Commissioner President Gary Darlage would not agree to any more on the Bell Ford Bridge: "There is nothing left of the Bell Ford Bridge and I will not spend another tax dollar on it. Ninety percent of the people in this county think it is asinine to even consider rebuilding that bridge."
The three bridges were built to span the East Fork of the White River. The 331-foot, two span Shieldstown Bridge was built in 1876 using a Burr Truss. The 434-foot, three span Medora Bridge was built in 1875, also using the Burr-type truss.
The 330-foot, two span Bell's Ford bridge collapsed into White River January 2, 2006 and has been removed. It was built in 1869 using a truss designed by Simeon S. Post, an iron truss combination with wood.
[This item is taken in part from a "The Tribune" Article written by January Wetzel.. Our thanks to Charles Dinsmore for forwarding it to us. For the complete article go to:
http://www. tribtown.com/main.asp?SectionID=1&SubSectionID=186&ArticleID=19093&TM=733.662
Historic Footbridge Lost
Newmarket, NH, May 15, 2006 - A historic wooden footbridge in Newmarket washed out overnight. The covered bridge crossed the Lamprey River where Main Street meets the river and was built in the early 1800s. As of noon, no other historic bridges or buildings have been reported severely damaged, state architectural historian Jim Garvin said.
[ - Concord Monitor Staff writer Chelsea Conaboy. Thanks to Tom Keating for forwarding this news item.]
For more about the flood in New Hampshire, go to:
http://www.concordmonitor.com/apps/pbcs.dll/article?AID=/20060515/REPOSITORY/60515004/1043/NEWS01

du Panache Bridge Burned [WGN 61-01-21]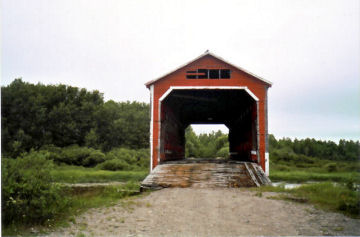 du Panache Bridge. Photo provided by Gerald Arbour May 3, 2006
May 3, 2006 - Sad news for the du Panache Bridge (61-01-21). The bridge has been destroyed by fire ( arsoned for sure) and the date is unknown ( last fall, this winter?). Roads are no longer in use in that area. There is no house around. The remnants (of the bridge were) discovered recently and the Town will have to wait months before it will be possible to clean the stream due to high water and bad roads to move heavy equipment on the site. The police are looking for evidence but they have never found anyone guilty here in Quebec for bridge arson.
Gerald Arbour



---
Belvedere Vermont's Morgan Bridge Closed [WGN 45-08-07]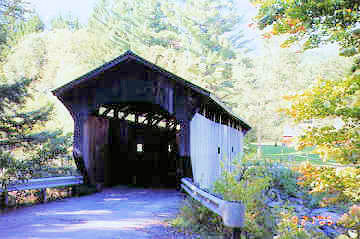 Morgan Bridge. Photo by Tom Keating, Sept.21, 2005
May 1, 2006 - The Morgan Covered Bridge was closed by the Town of Belvidere last fall on recommendation bythe VAOT. There are severe bottom chord breaks. The town has applied for funds through the district VAOT office to make repairs.
The 63-foot Morgan Bridge was built in 1887 to span the North Branch of the Lamoille River using a queen post truss. The bridge serves Morgan Bridge Road off Vermont Route 109.
The Morgan is the last of the small bridges spanning the North Branch retaining its original floor system. All of the others, Church Street, Montgomery, Jaynes, and Lumber Mill bridges have been modified with self supporting roadways.
---
County Inmates Groom CB's
Putnam County, IN, April 5, 2006 -- The county tourism board is committed to seeing that the county's historical landmarks are preserved by setting aside $500 for the Putnam County Sheriff's Department which provides the labor to keep the [covered] bridges looking presentable to tourists.
During the summer, non-violent Putnam County Jail inmates clear out brush and trim overgrown grass from around the bridges. The tourism bureau has provided the weed trimmers and gasoline for the department for use on these projects. Maintenance of the bridges falls under the jurisdiction of the Putnam County Commissioners.
[Gleaned from Greencastle Banner Graphic article by Adam Coates, forwarded to James Crouse by R. Branson of the County History Preservation Society.- Ed.]
---
Friends, funding sought for Huffman Bridge
TELL CITY, IN, April 17, 2006 - Huffman Mill Bridge has friends in Perry and Spencer counties who want to help return the historic structure to its former glory, and are assembling the people and money necessary to do that. Go to: http://www.perrycountynews.com/articles/2006/04/10/headlines/h3/txt
---
County bans foot traffic on Medora covered bridge
BROWNSTOWN, IN, April 4, 2006 -- Jackson County Board of Commissioners agreed Tuesday to close the Medora Covered Bridge to pedestrian traffic and proceed with a possible plan to stabilize its east span. Go to: http://www.tribtown.com/main.asp?SectionID=1&subsectionID=186&articleID=18418
---
A New Parke County Indiana Website
Parke County, IN, Apr.12, 2006 -- Says Katharine Marsolf: "My husband has started a website on living in Parke County. He is going often to Bridgeton and taking pictures of the progress that is being made. Please feel free to visit the site; http://www.parkecountyliving.com
---
Work begins on the New Bridgeton Covered Bridge
Likely to be finished in October
BRIDGETON, IN, Apr. 10, 2006 -- Said Jim Meece, a Parke County commissioner and team member: The goal is to have the new bridge up in time for the 50th Parke County Covered Bridge Festival celebration. The Bridgeton Covered Bridge Association needs to raise more money to pay for the completion of this bridge. He said fundraisers will be on going throughout this year.
Anyone willing to help raise funds should call (765) 548-4095, Bart Barnes, treasurer of the Bridgeton Bridge Association; or Meece at (765) 498-1811.
For the full story, go to: http://www.tribstar.com/local/local_story_100225428.html
---
Mood Bridge Reconstruction could begin 2007 [WGN 39-09-07]
Jan 25, 2006, East Rockhill, Twp, Pa. - Reconstruction of the Mood Covered Bridge will begin early in 2007, PennDOT said. The bridge was torched June 22, 2004 by six highschool graduates.
The new bridge will be a replica of the original 126-foot Town Truss span built in 1873, however, the steel beam-self supporting roadway and abutments not fire damaged will be retained.
Assuming materials are on hand, construction will start in early 2007 to be completed by mid-summer, PennDOT said. Designers are currently working on the bid packages and work has started on obtaining the necessary permits. Bids will opened later this year. Bucks County is to assume ownership of the bridge.
The work is expected to cost approximately $400,000, paid for by PennDOT and $66,666 restitution from the arsonists as ordered by the Bucks County Court.
[This item condensed from a News-Herald clipping sent by Doris Taylor - Ed.]
Blast causes minor damage to Lower Humbert Bridge
[WGN 38-56-12]
North Ursina, Pa. Ja. 30, 2006 - A homemade bomb stained the deck of 115-year-old Lower Humbert Bridge in Somerset County, Pa. There was no damage to the structure of the bridge. The Pennsylvania State Police are investigating the incident. The full article will be available on the Web for a limited time at http://www.centredaily.com/mld/centredaily/news/13747339.htm
The 125-foot Burr-arch Bridge was built in 1891 to span the Lower Turkyfoot Creek.
[This Story was shared by : tewalczak@adelphia.net-Ed.]