New York's Newest Covered Bridge
By Bob & Trish Kane
Photography by C. Gary Beckstead
If you have ever gone bridging or traveled with Gary Beckstead, you know that it is always an adventure. During a recent visit with Gary, he thought it would be nice to take us to see New York's newest, authentic covered bridge nestled in the foothills of the Adirondack Mountains in Lewis County in the Town of Greig.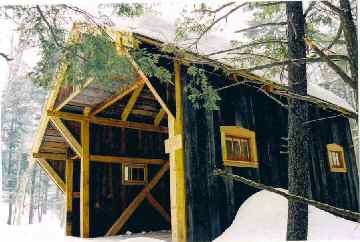 Rether Bridge, Camillus, NY
[WGN 32-25-01]
Photos by C. Gary Beckstead

Gary first heard of this bridge in the fall of 2002 and with only a few clues as to its location began his quest to find it during the winter of 2003. All he knew for sure was that it was located in Lewis County and somewhere south of Brantingham Lake.
With the help of the DeLorme Atlas he determined an 'area' where he thought the bridge might be located and decided this is where he would focus his efforts. After driving to this location, and searching up and down the road he thought it might be on, he was not able to locate it. He decided to stop and ask at the next house he came to. As luck would have it there wasn't a house in sight, but finally, he spotted what looked like a summer home. He approached the house and knocked but because it was winter, didn't really expect to find anyone at home. Low and behold someone came to the door! He asked if they knew of any newly built covered bridge in the area. To his amazement, they did and the lane to the bridge was just across the road at the end of their lawn. Now just how lucky is that! Gary thanked them and off he went down the snow filled lane in search of the bridge. Keep in mind, there was a lot of snow so this was not an easy task, but Gary was determined and eager to find this bridge. After hiking in for about 1/2 mile, he finally found it and what an interesting bridge it was.
Instead of a plain plank bridge, bridge owner Roger J. Rether from Camillus, NY decided to build a traditional Kingpost truss covered bridge over a small stream leading to his camp. Using designs and illustrations from Eric Sloane's book, American Barns and Covered Bridges, Mr. Rether hand hewed the beams for this single span bridge and used the old-style mortise and tenon technique to hold them together with red oak pegs. The "Bridge Master" then covered the bridge with barn wood siding and cedar shingles. The span also includes a lovely covered walkway with windows on both sides. There are many interesting articles located in the bridge . . . a small tin cup, a wooden mallet, a bottle of Sloan's liniment, a whisky flask, and some burlap bags, just to name a few. And when you visit the bridge, don't forget to look up to see some other interesting features of the bridge. The bridge doesn't officially have a name so for now, it is being referred to as the Rether Covered Bridge. It has been assigned a World Guide number of NY-32-25-01. We did not have our tape measure with us the day we visited the bridge but Mr. Rether told us the bridge was approximately 25 feet long. We will verify this information and the GPS location on our next visit to the bridge.

Directions to the bridge: Begin your journey in Port Leyden on State Rt. 12. Turn east and go across the river. At the T in the road, take a left (north) on River Rd. for 3/4 mile. Bear right (north east) on Marmon Rd. and follow for 3/4 mile. Then turn right (east) on Penny Settlement Rd. and follow for 1 1/2 miles. Turn left (north) on Fowlerville Rd. and follow for approximately 5 miles to the end. Turn right (east) on Abbey Rd. and follow for approximately 3/4 mile until you come to a green house on the right (#7870 on the house). Just past this house is a lane on the left. At the entrance is a wooden sign with #7875 and RJR 2003 engraved on it. This is the lane you will want to take. You can drive in for a short distance and park by the gate (please do not block the gate). From there, you will need to travel by foot for about 1/2 mile. The bridge will be on your right.

Although it is a little difficult to find it is worth the trip as it is such an interesting bridge. Mr. Rether welcomes visitors but asks that you respect the mementos he has displayed in his bridge. And when you visit, don't forget to sign his guest book.