mtorne_rdurfee

Return to First Page
Town Hires Firm to Evaluate Damaged Mt. Orne Bridge
WGN 29-04-08#2/45-05-03#2
An oversized tractor trailer drove through the Mt. Orne Covered Bridge in Lancaster, NH Wednesday evening, May 26th, causing significant damage to the upper lateral bracing inside the bridge. The bridge has subsequently been closed by the Town of Lancaster on the recommendation of the NHDOT.
Newspaper reports state the truck driver was heading back to his base in California, and was instructed by his dispatcher to take the route over the bridge to Vermont. The truck was empty at the time. The driver, Sergo Niko, of Pacoima, California, was arrested not far from the bridge in Vermont where he had stopped to remove debris from his truck. He was charged with conduct after an accident, failure to display trailer plates, and for the truck being over-height.
The Town of Lancaster, NH owns the bridge. Through their insurance carrier, the New Hampshire Property-Liability Trust, they have hired the consulting engineering firm of Dubois & King, Inc. to evaluate the damage and outline steps to be taken to repair the bridge. "The upper later bracing and some truss chords took some very big hits" says Robert H. Durfee, P.E., Vice President for Dubois & King. "It appears the truck just keep going though the entire bridge, causing damage all along its length" said Durfee. The bridge will remain closed until repairs can be made.
The Mt. Orne Bridge was constructed in 1911 using Howe type trusses. It is a two span structure, with an overall length of 266 feet. It spans the Connecticut River and connects New Hampshire with Vermont.
R. Durfee, VCBS Member, June 3, 2010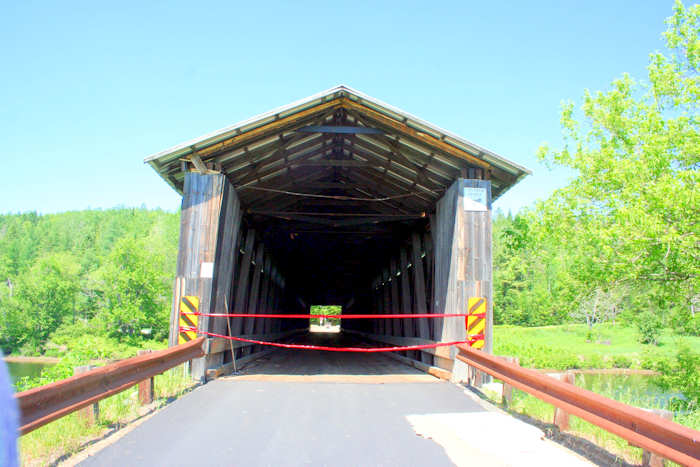 New Hampshire portal of Mt. Orne Bridge, June 3, 2010

Joe Nelson, P.O Box 267, Jericho, VT 05465-0267 This file posted 06/03/2010