SAVE THE MARTIN BRIDGE
[WGN 45-12-06]
Martin Bridge, WGN 45-12-06
Rotted end-beam, chord-ends deteriorated..
Bridge floor in dangerous condition.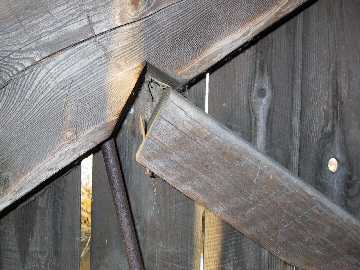 Counter-brace dislocated
Bridge tilted on abutments.
Photos by Nathan Phillips
The Martin Bridge was built for William Martin in 1890 by Herman Townsend and his sons. The bridge utilizes a Queenpost truss and was built solely to provide access to Martin's agricultural lands on the far side of the Winooski River.
The Martin Bridge is the only covered bridge remaining in Marshfield and is the only original covered "farm" bridge left in Vermont. A "farm" bridge was a bridge built solely for agricultural use. The Martin Bridge and surrounding land was acquired by the Town of Marshfield in November, 2003.
Despite it's sporadic maintenance, overall the bridge is in good condition for it's 114 years. However, due to extensive rotting at the ends of the bottom chords and shifting of the abutments, the bridge had tilted significantly and was in danger of complete collapse.
In order to ensure it's continued existence, on May 18, 2004, the Martin Bridge was lifted off it's abutments and placed on temporary concrete supports in an adjacent field. With the bridge out of immediate peril, local volunteers have shifted their attention to designing the necessary repairs and fundraising. Although much of the restoration work will be done by local volunteers, we still need to raise approximately $50,000 for the portion of the work to be contracted.
Donations to help restore this agricultural landmark may be sent to:
Martin Bridge Restoration Project
c/o Town of Marshfield
122 School Street
Marshfield, VT 05658

For additional information, please call Nathan Phillips at (802) 454-1349