keatings river cruise
Back to Archives
The Keating's River Cruise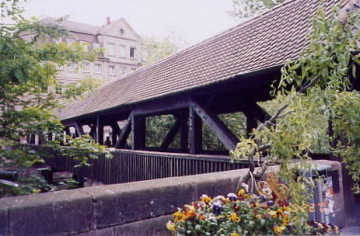 Henkersteg Foot Bridge. Photo by the Keatings, May 2007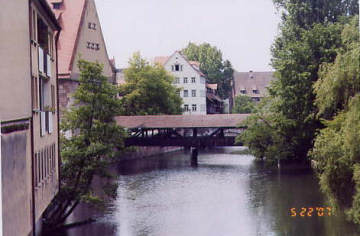 Henkersteg Foot Bridge. Photo by the Keatings, May 2007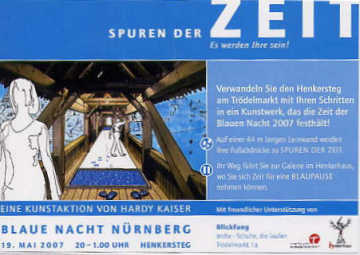 Henkersteg Foot Bridge Sign. Photo by the Keatings, May 2007
May, 2007 - Hi Folks. Liz and I went on a river cruise trip from Amsterdam, Netherlands to Budapest, Hungary, using the Rhine, Danube and Main rivers plus the Main-Danube canal. It was a very enjoyable trip. We only were able to visit a single covered bridge, in Nuremburg, Germany.
See attached three pictures (by Liz) of the Henkersteg foot covered bridge (WGN-02-08), over thePegnitz river, and a plaque in German, explaining that the hangman lived in the tower form the middle of the 15th century. The 4th scan is of a card concerning some event on 19 May 2007 in connection with the Henkersteg. The next (and remaining pictures) are by me. You can see the enclosed portion of the bridge plus the hangman's tower. A sign outside the enclosed portion of the bridge said student housing. We were not able to enter the tower or enclosed portion of the bridge.
The next two pictures are of the old town hall in Bamberg, one with Liz and one without. This town hall has an interesting story. The town merchants wanted to build a town hall and were denied permission by the bishop (also the mayor). The merchants discovered that the bishop's authority ended at the river's edge. They built the town hall on an island in the river, in the middle of the 11th century. It was destroyed by fire and rebuilt in 1440. The present baroque/rococo style was done in a renovation from 1744-56.
The last set of pictures are of Steinerne Brucke (Old Stone bridge), built in 1135. This bridge, across the Danube in Regensburg, is still used by pedestrians and bikes. Our ship had to use a canal to get around it. I have attached three pictures, including one of the gate with a clock tower.
Tom










| | |
| --- | --- |
| | |
| Bamberg Town Hall. Photo by the Keatings, May 2007 | Bamberg Town Hall. Photo by the Keatings, May 2007 |
| | |
| --- | --- |
| | |
| Henker Steg. Photo by the Keatings, May 2007 | Steinerne brucke. Photo by the Keatings, May 2007 |
| | |
| --- | --- |
| | |
| Steinerne brucke. Photo by the Keatings, May 2007 | Clock Tower. Photo by the Keatings, May 2007 |

Joe Nelson, P.O Box 267, Jericho, VT 05465-0267 This file posted 6/20/2007