hutchins_091029

Return to First Page
Hutchins Bridge Reconstruction Progress - October 12
Hutchins Bridge Reconstruction Progress - October 5
Hutchins Bridge Reconstruction Progress - September
Hutchins Bridge Reconstruction Progress - August
Hutchins Bridge Reconstruction Progress - July
Hutchins Bridge Reconstruction Progress - June
Hutchins Bridge Reconstruction Progress - April & January
Hutchins Covered Bridge Engineering Study
Hutchins Bridge Finished - October 29
WGN 45-06-07
October 29, 2009 - It's Thursday, cloudy and threatening rain, the final day of the project. The last of the heavy equipment is moving out after completing the installation of new guard rails, leaving Alpine people to smooth the ground around the new posts.
Now,the newly renovated bridge stands clean behind park-like landscaping, ready for the first passage of the visiting public—myself.


The signs are back over the east portal - "Hutchins 1883" - and "Lattice Type Bridge Built by the Jewett Bros."
A veiw of the west portal.
Upstream view.
Maestro Jim Ligon of Alpine Construction. With this job finished he will soon be starting the work in Williamsville.
Downstream view.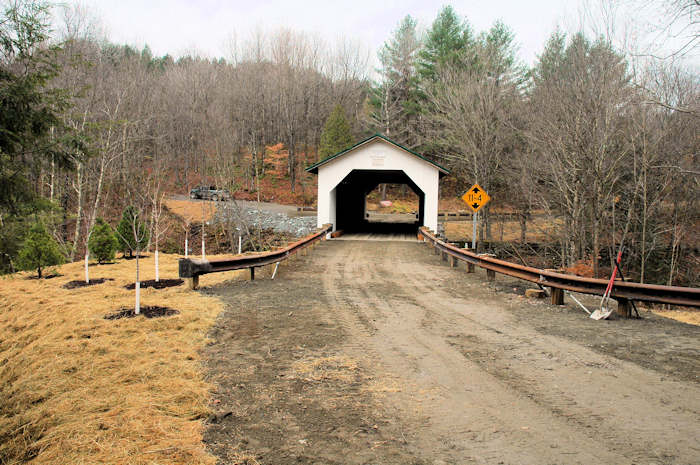 Ready for final inspection.

Joe Nelson, P.O Box 267, Jericho, VT 05465-0267 This file posted 10/30/2009