gareau

Return to Archives
Quebec's Gareau Bridge Lost
by Gerald Arbour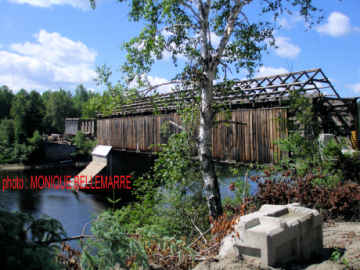 Gareau Bridge, WGN 61-46-01
Photo by Monique Bellemarre
August 6, 2007 - The Gareau Bridge, (61-46-01), is on its way to being torn down. Recent pictures indicate the span has already been moved to the ground.
A few years ago, this private bridge was offered free to anyone willing to take care of the bridge. The Nexfor Co. (a paper company) is the owner of the bridge.
An agreement was quickly reached between local government, VTT club and outfitters to save the bridge. Unfortunately, the Company changed their minds and the bridge will be destroyed. A nice piece of history will be lost.





Joe Nelson, P.O Box 267, Jericho, VT 05465-0267 This file posted 8/8/2007