Richard Donovan's Covered Bridge Model Finds New Home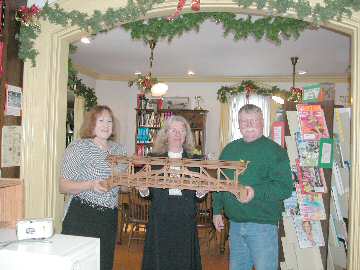 Trish and Bob Kane present Richard T. Donovan's model covered bridge to Nancy Wilcox of the Oxford Memorial Library
Oxford, NY, March 17, 2004 - Trish and Bob Kane from Sherburne NY were extremely pleased to be able to present the above covered bridge model to Nancy Wilcox, Director of the Oxford Memorial Library on behalf of covered bridge expert, Richard T. Donovan.
The model, a Multiple King Post Truss with a Burr arch, is constructed of walnut and redwood and was built by J.B. Warg of State College, PA. Richard proudly displayed this model in his home for many years.
The Oxford Memorial Library is a former home of Theodore Burr, famous covered bridge builder who first patented the Burr Arch Truss design in 1806. The house was built by Burr between 1810 and 1812 and is the only remaining structure known to be built by him. His Harrisburg home is gone, and his burial place is unknown. Of the many important bridges he constructed, none are still standing.
Given this, Richard felt the Oxford Memorial Library would be a fitting home for his model. It will be on display in the reference room of the library for all to enjoy. Future plans for the library hope to find the model in a room dedicated to Theodore Burr, his life in Oxford and his covered bridge career.