cbupdate sjames
Back to Archives.
CB Update - Hoyle Tanner, Inc.
January 24, 2007 - As promised, I am providing some updates for our covered bridge projects. This is a very busy time for us as we are working on a total of six different covered bridge projects in NH and VT. Iíll provide updates on some of the other projects as they progress; a few are just starting.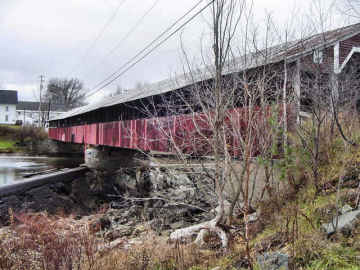 Haverhil-Bath Bridge, WGN NH-05-04
Photo by Hoyle-Tanner & Associates, Inc, 01/24/07.
Haverhill-Bath Covered Bridge - The Towns of Haverhill and Bath have signed an agreement with Wright Construction for the rehabilitation of this bridge, which is the oldest covered bridge in New Hampshire. The bridge utilizes Town Lattice trusses with added arches and a unique sidewalk on the upstream face. HTA will be providing construction phase services for this project. Construction is expected to begin in late spring/early summer with a one year construction duration.










East Fairfield Bridge, WGN VT-06-03
Photo by Hoyle-Tanner & Associates, Inc, 01/24/07.
East Fairfield (VT) Covered Bridge - This Queenspost Truss bridge has been closed since 1991, with a full rehabilitation scheduled starting in the fall of 2007. The project includes repairs to the east abutment and wingwall and a complete rehabilitation of the bridge. Upon completion of repairs, the bridge will be opened to traffic with a six-ton load limit. We are working with the Vermont Agency of Transportation on this project.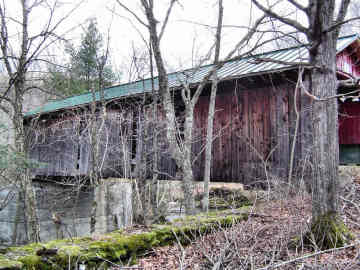 Hutchins Covered Bridge, WGN VT-06-07
Photo by Hoyle-Tanner & Associates, Inc, 01/24/07.
Hutchins Covered Bridge (Montgomery, VT) - Rot damage through a leaking roof. Steel beams were added and the roof repaired as temporary measures until permanent repairs can be made. The project involves repairing the trusses, approach improvements and replacement of the existing floor beams and decking so that the bridge can be posted for a higher, 10 ton live load limit. This is our second covered bridge in the Town of Montgomery, with the first being the rehabilitation of the Comstock Covered Bridge that was completed in 2003. Both bridges were built by the Jewett brothers with the Hutchins Bridge being 10 feet longer.




Sean T. James, PE, SECB
Project Manager
Hoyle, Tanner & Associates, Inc.

Joe Nelson, P.O Box 267, Jericho, VT 05465-0267 This file posted 01/25/2007