bethel bridge

Back to Archives.

A Bethel, Vermont, Covered Bridge

March 12, 2004 Dear Joe,
I really like puzzles, so was intrigued with your question on the former Church Street Bridge in Bethel. I remembered an article on this "old-timer" in the Connecticut River Valley Covered Bridge Society "Bulletin." The only problem was locating it. So, out came my entire collection. After a half-hour of searching, I found it! The article appeared in the Summer 1967 issue.
Enclosed is a copy of the article for you and Heidi Nicolaidis, [the inquirer]. Judging by this, the bridge was built following the freshet of July 1830. It was paid for by a special tax voted at a new town meeting held in September 1830. I imagine the covered span probably was constructed in the spring of 1831.
Happy Bridging! Charlie Elflein











BETHEL'S COVERED BRIDGE
BETHEL, VERMONT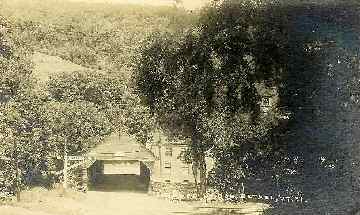 Bethel Bridge
c1831 - 1927
THE STORY of this old covered bridge was written some time ago by one who had fond memories of the old span, we are using only parts of it.
We do not have a photo of this, so appealed to Mrs. Herbert Foster of Windsor, who loaned this photo, and to her we say thanks. We know it has to be over the Third Branch of White River as that is the branch going through Bethel. There is another bridge mentioned, called the River Street bridge, it too was covered. If someone has photos or a card of it we would appreciate seeing it.
The old bridge over the Third Branch served the town of Bethel for nearly a century before it became a victim of the November, 1927, flood which destroyed so many of Vermont's bridges. It was built following the freshet of July, 1830. The heavy rains of that month washed out Mill Dams in Braintree and Randolph and caused much damage in the community. At this time, Branch bridge went and part of the River Street covered bridge. Washed away also were the upper mill dam, part of a tannery that stood near present office of the telephone company, the saw and grist mill of Pelig March, the woolen factory of Stephen Cleveland and a hattery and old mill.
The Branch bridge was rebuilt at a cost to the town of $442, paid for by a special tax voted at a new town meeting held in September, 1830, when money amounting to $803 was raised to repair damages.
As we read the story further we learn this old span was a part of the life of the Valley. People who used it never thought of it as a means of crossing the Third Branch of the White River, but thought of it as having a real personality.
In fact this old span like many of its counterparts provided romantic opportunities. Also associated with the old span were the aromas of a rich combination of smells that came from the hay caught by its rafters from passing high hay loads, from the mellowed timbers of its underpinnings, also smells from horses, cattle and sheep passing through, and added to all these the pungent mealy smell coming up from the grist mill, close by just below the mill dam. All of this gave a personal touch to this old span.
This old span conveyed a sense of friendliness, lacking in the modern replacements, and often gave shelter to children going to school, from sudden showers and in winter from the biting north winds.
Many a horse and buggy and its occupant or occupants as the case might be, also found refuge here very convenient to get out of sudden storms, and for many years the long ladders of the village fire department used its rafters for a dry and handy storage place. And like most other old spans had a sign which said "$5 fine for driving horse faster than a walk across this bridge."
Sometimes things were not always so pleasant, when the matter of repairs, for re-planking or re-shingling came up, or the amount to be appropriated for hauling snow into the bridge in the winter. In the days of this bridge as today there were those, you see who cherished the old span and those who viewed it with different eyes.

[Article from Connecticut Valley Covered Bridge Society Bulletin, Summer 1967. Postcard images
provided by Richard Wilson, New York State Covered Bridge Society ]

Joe Nelson, P.O Box 267, Jericho, VT 05465-0267 This file posted March 16, 2004, revised March 17, 2004